As of past few years there have been an ever increasing amount of SSDs sold on Aliexpress and Amazon from Chinese brands that you have never heard of – today we are going to be having a look at one of the cheapest such drives from the brand Berlariberbaris.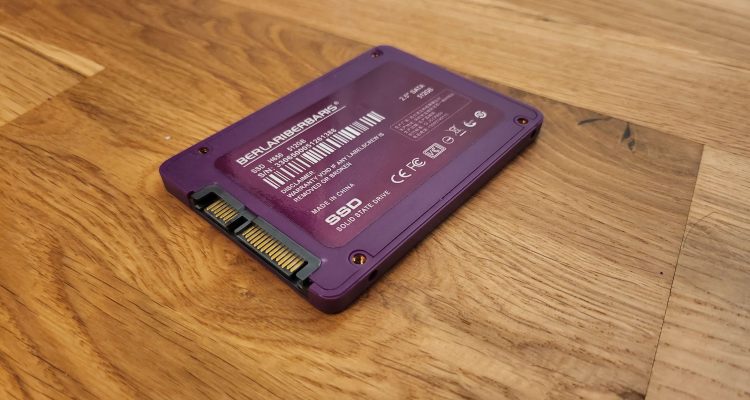 So the first question that may arise is, why did you order a drive from Berlariberbaris? The reason for this is because it seems like a "mystery drive" as some customers report having received drives with soldered microSD cards as the NAND flash as seen in the following thread on a major Chinese tech forum. I was kind of hoping to receive the exact same configuration as the thread poster, but it seems like they use whatever cheap storage / controller they can get their hands on for these particular drives.
As for the packaging for the drive in question, it did come in the most generic black padded envelope as possible without any form of branding. For the housing of the actual drive it is all made out of very cheap plastic, that almost feels like something that would be intended for some kind of extremely cheap toy for children – this does not really give a good impression and most likely is harmful for the temperature of the NAND/controller.
Teardown of the drive
When I did receive the drive and had it unboxed, the first thing I wanted to check in this case was what specific NAND-flash and controller the drive was fitted with. Thankfully due to how cheaply put together this drive is, opening it was a breeze using just a small flathead screwdriver wedged between the small crack in the housing.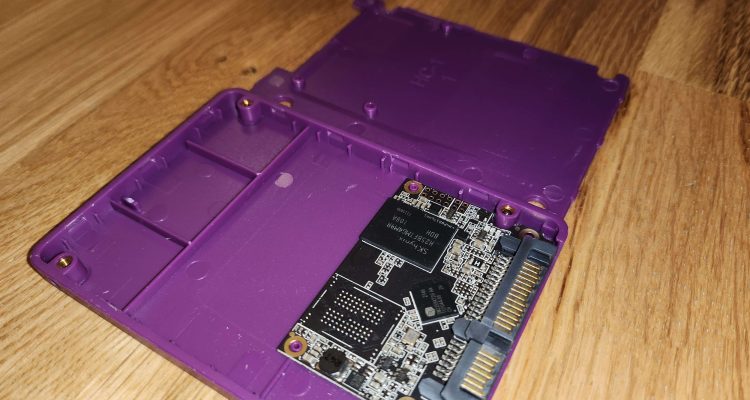 After having opened the housing we can see that the drive contains a tiny PCB that fills up just a small bit of the actual housing, while the rest is just an empty void that have no additional parts.
When it comes to the controller we can see that the drive have a quite common controller chip that is often used in cheap DRAMLess SSDs from Silicon Motion. The specific controller in this specific drive is the SM2259XT2G, which is a 4-channel SATA 6Gbit/s controller that is designed for lower end drives for entry level systems. As for the full detailed specifications of the controller they can be found in the following PDF-file on the Silicon Motion website.
Last but not least, as for the flash in the drive it is a 512GB single TLC 3DNAND module from SKHynix.
Benchmarks
The most important part of a good SSD is the performance and therefore I have been running a few of the more popular benchmark suites to get a baseline for this specific variation of the drive.
Below you can find how the drive performs:
AS SSD Benchmark 2.0.7316.34247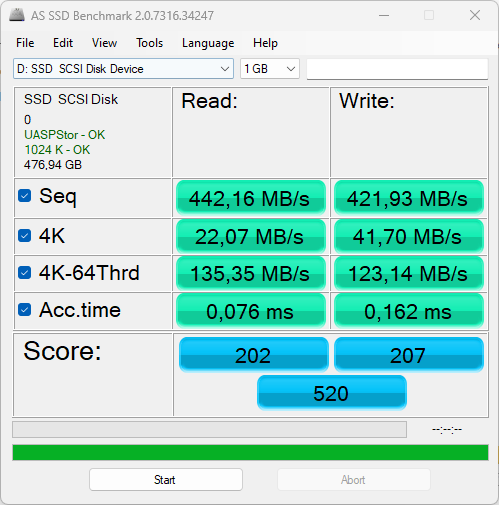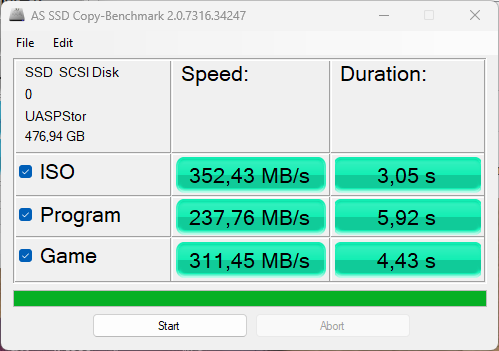 CrystalDiskMark7.0.0h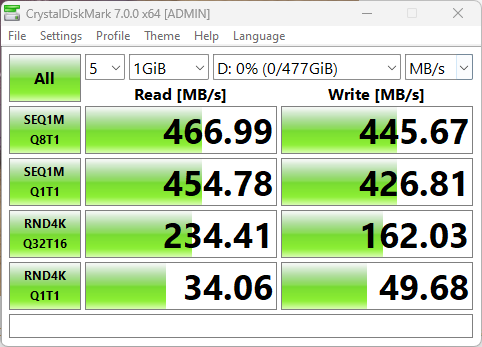 Information about the flash NAND
Based on the limited information that is printed on the chip, I did not find much information about the specifications of the 3DNAND chip itself. Thankfully after a bit of research I found a software on the Russian blog usbdev.ru that helps with this called smi_flash_id, which is able to extract information that is normally not visible from the controller and then presents it within a console window.
Below is the output from the tool with the drive I did test:
Drive: 2(USB)
Model: SSD
Fw   : V0322B0
Size : 488386 MB [512.1 GB]
From smart : [SMI2259XT] [V0322B0 00] [HYNV5]
Controller : SM2259XA bufferless
FlashID: 0xad,0x5e,0x2a,0x33,0x0,0xa0,0x0,0x0 - Hynix 3dv5-96L TLC 16k 2048Gb/CE 512Gb/die
Channel: 1
CE     : 2
TotDie : 8
Plane  : 4
Die/Ce : 4
Ch map : 0x01
CE map : 0x03
Inter. : 8
First Fblock  :    2
Total Fblock  :  954
Total Hblock  : 7632
Fblock Per Ce :  954
Fblock Per Die:  954
Original Spare Block Count :    55
Vendor Marked Bad Block    :     0
Bad Block From Pretest     :     1
With the information from the above output we can see that the drive uses a single 512Gb 96-layer 3D TLC NAND module company SKHynix with the model number SKHYNIX 3dv5-96L.
Conclusion
My conclusion about this specific drive from Berlariberbaris is that it is yet another boring DRAMLess drive of questionable quality. As the manufacturer is known to use the cheapest parts they can source, it is not really good to bet on receiving even the same controller or NAND-flash as mentioned in this short analysis of the drive, as you may end up with a really dodgy drive made out of partially defective MicroSD cards.
So in short – avoid this drive, even though it may seem like a good deal, and get something from a reliable brand like Crucial or Samsung.